SEED Viewer Manual/KEGG
From TheSeed
Kegg Maps
This page allows you to view KEGG maps and statistics for chosen organisms in the SEED.
Usually, you enter this page from a page that had an organism defined. The chosen organism is stated in the header:

Entering the page, you will see the overview KEGG map pre-selected, which is Metabolism. In the following Filter Select you can select another map. Press select to display the map in the graphic on the bottom of the page.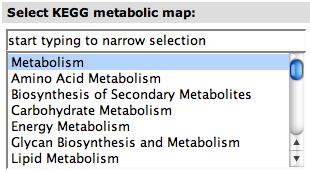 In the example, the KEGG map Lysine